For the entire month of December Light House Dublin and Pálás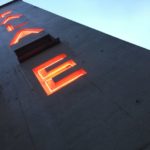 Pálás a new three screen arthouse cinema and cultural space in the UNESCO city of film- Galway. Designed by Architect Tom de Paor, Pálás is a seven story co... More Galway are dedicated to spreading Christmas cheer and giving audiences a fun and festive space to celebrate with their friends and family and enjoy all of their favourite Christmas films on the big screen.
For Light House and Pálás it simply isn't Christmas-time without the likes of Love Actually, Die Hard, The Muppet Christmas Carol and other festive favourites and the line-up this year is a cracker!
Buddy The Elf is back on the big screen daily from 4th December with a very special re-release of Elf, while Warner Brothers are releasing a very special 4k restoration of Joe Dante's Gremlins from Dec 6th.
From 29th November there will be limited screenings of a brand new 20th anniversary restoration of Stanley Kubrick's Eyes Wide Shut with a specially commissioned short documentary Never Just a Dream.
This year's festive party on December 7th is a massive Home Alone Party with loads of mischievous fun and games throughout the building. As always, Christmas attire and costumes are encouraged!
There will also be screenings of classic films such as Frank Capra's It's a Wonderful Life, Miracle on 34th Street and for the first time on their screens Judy Garland in Vincent Minelli's Meet Me in St Louis.
To celebrate it's 25th anniversary there will be special screenings of THE NIGHTMARE BEFORE CHRISTMAS with very special singalong screenings and regular screenings.
These are just the highlights of a packed month-long programme. There will also be a Home Alone Double Bill, 20th anniversary screenings of Doug Liman's festive 90's rave drama Go, a very special The Room Christmas Party in Light House and there will be a Christmas Supper Club in Merrow Restaurant at Pálás, along with lots of other festive treats.
Tickets are available to purchase now on www.lighthouse.ie and www.palas.ie