Films—we all have our favourites. It's the time of year when film critics compile their top films of the year and this got the folks at Light House Cinema thinking about their top films of 2015.
To help them compile their list they looked at the Light House Cinema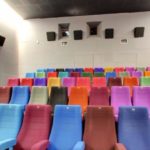 Light House Cinema is a specialist independent cinema in Smithfield, Dublin. Their eclectic schedule includes feature films, shorts, classics, foreign language ... More Top Ten Films of 2015 ranked in order of customer admissions. The result is an incredibly diverse list including Oscar winners, great Irish Films and European foreign language sleeper hit Force Majeure.
Four incredible documentaries make the top 10, on a list that sees with the wonderful Irish Older Than Ireland sitting ahead of acclaimed Hollywood blockbuster Mad Max: Fury Road .
The Light House Cinema customers have spoken. Here's the Top 10
1. Birdman
2. Amy
3. The Lobster
4. Older Than Ireland
5. Mad Max Fury Road
6. Brooklyn
7. Cobain: Montage of Heck
8. Queen of Ireland
9. Inherent Vice
10. Force Majeure