Light House Cinema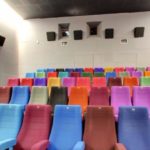 Light House Cinema is a specialist independent cinema in Smithfield, Dublin. Their eclectic schedule includes feature films, shorts, classics, foreign language ... More is spending the month of June worshipping at the altar of two of their favourite big-screen goddesses, Audrey and Katharine Hepburn (no relation!), with Hepburn Forever.
Both fizzing with charisma, these fiercely talented women have a combined eighteen Oscar nominations between them and ruled international cinema screens for decades.
Both Audrey and Katharine have had such vast and varied careers; they have selected a programme of films that showcase the breadth of their skill, across a number of genres.
Light House Cinema is delighted to present a selection of some of the pair's classic films, big and beautiful on the big screen.
Special Event: Breakfast at Tiffany's Breakfast!
June 3rd, 13.00
They're kicking off our Hepburn Forever season with a very special morning screening of the film that cemented Audrey Hepburn's status as an icon. Come early and treat yourself to a very special pre-screening breakfast and maybe even some sneaky bubbles!
Breakfast at Tiffany's
June 4th,15.00
June 7th,15.00 & 20:30
What better way to start their season, than with Blake Edwards' sparkling adaptation of Truman Capote's Breakfast at Tiffany's. Audrey Hepburn stars as the charming but disastrous Holly Golightly and George Peppard as the poor divil who falls in love with her.
Suddenly Last Summer
June 9th, 22.30
Katherine Hepburn stars alongside Elizabeth Taylor and Montgomery Clift in Joseph L Mankiewicz's provocative adaptation of Tennessee Williams' play about a young woman who is sent by her aunt to an institution after witnessing her cousin's mysterious death the previous summer. A fascinating insight into how to make a sordid Southern Gothic film during the strict Hays Code era.
The Philadelphia Story
June 11th, 15.00
June 14th, 15.00 & 20.30
Romantic comedy at its finest, George Cukor's classic features a vibrant and hilarious comic turn from Katherine Hepburn, utterly dripping with charisma and charm. On the eve of her wedding, charming socialite Tracy is romanced by lovable ex-husband Cary Grant and sweet newspaperman James Stewart. We certainly don't envy her that decision!
My Fair Lady
June 18th, 15.00
June 20th, 15.00 & 20.30
Taking on the role originated on Broadway by Julie Andrews, Audrey Hepburn lights up the screen with her portrayal of Eliza Doolittle in this delicious musical confection. Rex Harrison plays a misogynistic and snobbish phonetics professor who makes a bet that he can turn a Cockney flower seller into a lady. A dreamy musical with "loverly" songs by Lerner and Loewe.
The African Queen
June 17th, 15.00
June 21st, 15.00 & 20.30
Katherine Hepburn teams up with gin-swilling steamboat captain Humphrey Bogart to attack an enemy warship during World War 1. The basis of all great love stories! An epic mix of action, romance and adventure, John Huston's classic The African Queen is a must for the big screen.
Wait Until Dark
June 23rd , 22.30pm
Audrey stars as a recently blinded woman who is being terrorised in her small apartment by criminals, as they realise she is unwittingly in possession of a doll stuffed with their heroin. A tense thriller that dials up the tension as the film builds to a genius and terrifying climax. Hepburn gives an Oscar-nominated turn as the terrified but resourceful woman who grapples with protecting herself against a truly frightening Alan Arkin
Sabrina
June 24th, 15.00
June 27th, 15.00  & 20.30
Billy Wilder directs this gem of a film about a love triangle that ensues when two wealthy brothers fall in love with their chauffeur's daughter. William Holden and Humphrey Bogart compete for the affections of Sabrina, played by a never more charming Audrey Hepburn as the trio fizz through Wilder's trademark banter with gusto.
Guess Who's Coming To Dinner?
June 25th, 15.00
June 28th, 15.00 & 20.30
Katharine Hepburn and Spencer Tracy reunite for Stanley Kramer's classic social commentary Guess Who's Coming To Dinner, as loving parents who are shocked to discover that their daughter brings home an African American boyfriend. This clever and brilliantly acted drama feel just as relevant and intelligent than upon its release in 1967.
Roman Holiday
July 1st, 15.00
July 4th, 15.00 & 20.30pm
Cheer yourself up with Audrey Hepburn as a princess in hiding, zipping around Rome on a scooter with Gregory Peck. What better film to celebrate summertime with? Every scene of this delightful William Wyler classic is a beauty, with gorgeous landscapes and a cheerful colour palette. Huge skirts encouraged!
Tickets and a full list of the HEPBURN FOREVER films can be found here.